26. October 2020
Final Event for C-ROADS Germany - Pilot Hessen
In the C-ROADS project, the foundation for a Europe-wide roll-out of intelligent and connected transport infrastructure has been laid in its 5-year term. The goal of the C ROADS project is the cross-border harmonisation and standardisation of infrastructure-based cooperative intelligent transport systems (C-ITS services). This C-ITS pilot is co-financed by the Connecting Europe Facility of the European Union with a funding amount of € 3.03 million.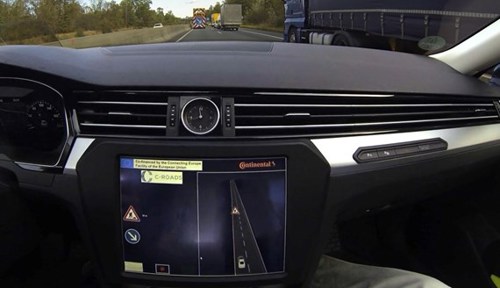 As part of its strategy for the use of cooperative transport technologies, Hessen Mobil has taken the lead in setting up the Hessian pilot with partners from industry and science, thus further expanding the Hessian DRIVE test field for automated and networked transport. In the virtual final event on 26th October 2020, the results of the C-ITS services implemented in the C-ITS pilot Hessen were presented. These services were implemented with different communication technologies: cellular radio, W-LAN and Digital Audio Broadcast (DAB) - a socalled hybrid utilisation concept: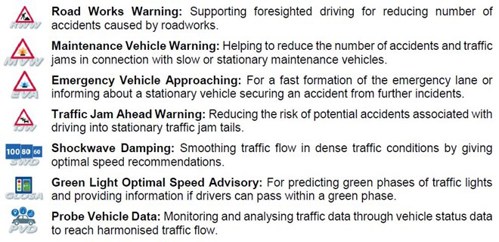 A total of about 60 Roadside ITS Stations and Vehicle ITS Stations were installed for the services, both stationary at gantries and traffic lights and also mobile in winter maintenance vehicles and cars. Extensive tests, which took place on a national and international level, ensured a regular exchange of information to harmonise specifications and functionalities. An important factor here is also the regular contact with the automotive industry, which is playing a more and more important role in the connection of infrastructure and vehicles.
"Cooperative intelligent transport systems realise the vision of safe and intelligent mobility of the future", says Prof. Gerd Riegelhuth, President of Hessen Mobil. He continued: "The direct exchange of data and information between vehicles and the road infrastructure will significantly increase road safety by means of early hazard warnings in the vehicle. A targeted harmonisation of traffic flow helps to avoid traffic jams and reduce emissions".
Project partner C-Roads Germany - Pilot Hessen:
Hessen Mobil - Traffic and Road Management (coordination)
AVT STOYE GmbH
Bayerische Medien Technik GmbH
Continental Teves AG & Co. oHG
Garmin Würzburg GmbH
GEVAS software GmbH
Hessen Digital Radio GmbH
Heusch/Boesefeldt GmbH
SWARCO Traffic Systems GmbH
Further information can be found at https://www.c-roads-germany.de/
The contents of this publication are the sole responsibility of Hessen Mobil and do not necessarily reflect the opinion of the European Union.

Source: https://mobil.hessen.de/pressemitteilungen/projekt-c-roads-germany