C-ITS in Operational Vehicles
C-ITS in Operational Vehicles
Since the end of 2021, ASFINAG has been equipping all new operational vehicles with a C-ITS onboard unit (OBU) in order to send C-ITS warning messages to surrounding road users in case of an event on the road. In the meantime, dozens of vehicles (traffic managers, route service and toll control vehicles) are on the Austrian freeways with the C-ITS system in real operation. All road users with C-ITS-enabled vehicles on Austria's motorways are warned acoustically and visually of unforeseen events directly in the vehicle so that they can react to dangers more quickly and therefore prevent accidents.

The core function of the C-ITS onboard unit is sending out different C-ITS messages (DENMs - Decentralized Environmental Notification Messages) when required, which are either triggered automatically when the blue or yellow light is activated or activated manually via a tablet handheld, such as warnings for approaching emergency vehicles, stationary vehicles in protection, accidents, breakdowns, road works, etc.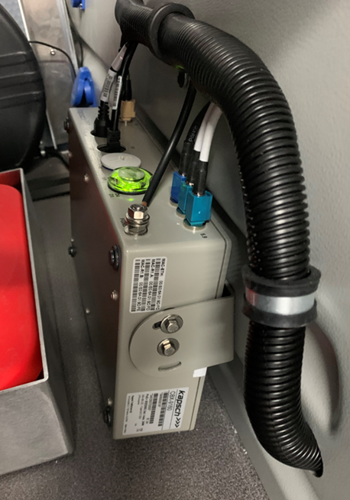 In addition to the DENMs, Common Awareness Messages (CAMs) are continuously sent out by the C-ITS onboard units of the operational vehicles and the vehicles of the road users cars which are equipped with Car2X. These messages contain general information such as your own position data, driving direction, speed, vehicle type, etc. The system is completely anonymous, i.e. neither personal data nor information about the vehicle registration (e.g. license plate number or similar) is transmitted. The connection to a security credential management system (PKI infrastructure) ensures that your own messages are signed with valid authorized security certificates or that the signatures of the messages received are validated by other vehicles equipped with C-ITS. It is also important that protection zone information for CEN-DSRC-based communication devices (toll systems) is transmitted in order to ensure the radio communication compatibility of the two systems CEN DSRC and ITS G5 in the same frequency band.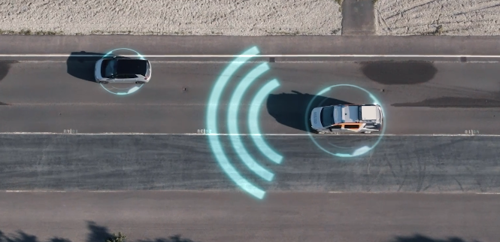 The Volkswagen Group has already equipped many new vehicle types (Golf 8, T7-Bus, ID.3, ID.4, ID.5, ID.Buzz, Cupra Born, etc.) with C-ITS as standard from the car manufacturers, others Vehicles will follow soon. Through a cooperation between ASFINAG and the Volkswagen Group, all supported Car2X use cases of the operational vehicles have been successfully validated in joint compatibility tests. An extension of these current C-ITS use cases is being planned, the first pilot projects with the integration of onboard units for the transmission of corresponding C-ITS messages are being prepared with the automatic traffic cone setter and with operational vehicles in the areas of winter service and slow moving road works such as grass mowing. In total, more than 200 ASFINAG operational vehicles will be equipped with a Car2X onboard unit by 2026 in order to increase road safety and the safety of employees in the various operational units across the board.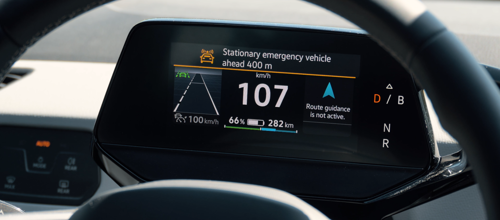 The Austrian Automobile, Motorcycle and Touring Club (ÖAMTC) has also started a pilot project to thoroughly evaluate and test the C-ITS technology for roadside assistance. Other concrete projects with C-ITS vehicle units in Austria are also being piloted as part of the Europe-wide funding program C-ROADS 3, such as rescue vehicles from the Salzburg Red Cross and winter service vehicles from the state of Salzburg.
Contact Information
Herbert Petautschnig
Service and Project Manager C-ITS / CCAD
ASFINAG Maut Service GmbH
herbert.petautschnig@asfinag.at